This is going to be a somewhat depressing post. But then again, central Christchurch is a somewhat depressing place right now. Besides, the post will lighten up towards the end, I promise. On 22 Feb 2011, an earthquake destroyed much of the city centre. Some buildings collapsed completely, many more were rendered uninhabitable. I'm not sure what I was expecting when I decided to visit Christchurch almost a year later. I had been told that there "wasn't much to see any more", which is true if you like historical buildings, and false if you like spray paint and cordons.
The whole of the city centre is cordoned off as reconstruction work has begin in earnest. This is Kilmore St near the centre, according to Google Street View: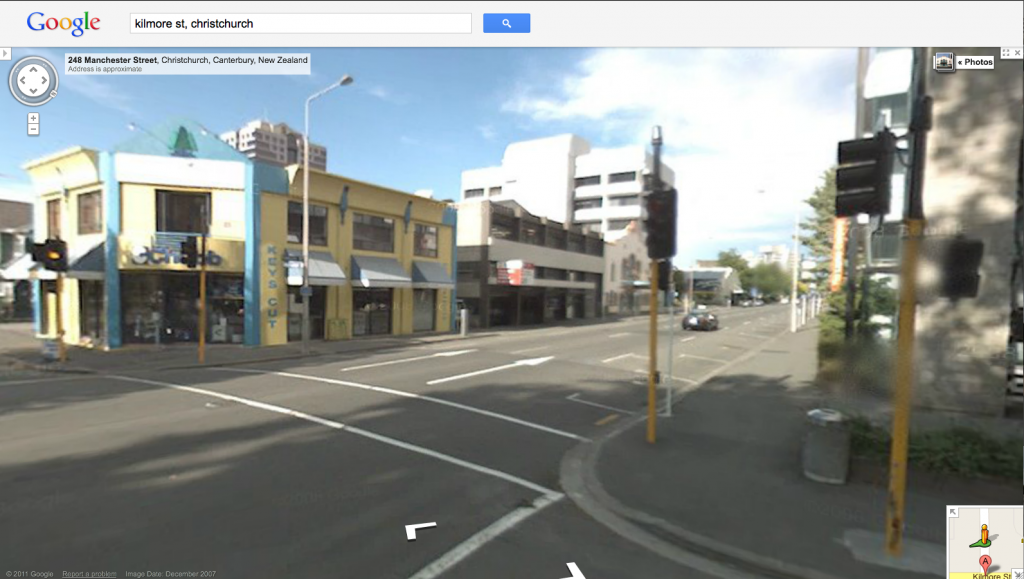 This is the same view now:
The whole of the town centre is cordoned off, and accessible only to construction workers:
It took over two hours to walk around the circumference of the cordon. So much of the city looks as though time just stopped on the day of the quake. Through the dusty windows of cafes you can still see the coffee cups broken on the floor where they rolled off set tables during the quake. Most of the buildings still have a spray-painted sign saying which team checked them for survivors and when. This apartment building was checked by NSWTF (New South Wales Taskforce, a group from Australia) at 5.50am, 6 days after the quake:
The older buildings seemed worst affected:
And there are sobering reminders of the human cost:
However, there are things to be optimistic about. Famous for their ingenuity, the Kiwis have found a way to keep commerce going even in the stricken areas: shipping containers. When I first heard that there was a "container mall" in the town centre, I imagined a bleak corridor of metal bearing BP and Monsanto logos like some illegal Hong Kong gun market from an action film. The reality was pleasingly well executed (and unlike most inner city malls, there's no shortage of parking space because of all the demolished buildings):
The cafe in the above pictures is light and airy, with sofas and cushions inside. There are banks, a food court and plenty of international clothing brand shops. Across town there was even a container bar with a passable whisky selection:
Yes, that's a shipping container, heavily remodelled. The bar was full of locals and tourists and could have been in any world city. There was even a group of men in pink leotards pouring beer down the throat of their soon-to-be-betrothed friend.
Life goes on.